"I'm Sorry but Unfortunately Your Fired!!"
03/06/2013
Mourinho has signed a four-year contract and will return to the club where he won two Premier League titles, an FA Cup and two League Cups between 2004 and 2007.
On 3 June 2013, Chelsea chief executive Ron Gourlay announced the appointment of Mourinho as manager for the second time, on a four-year contract.
Mourinho told Chelsea TV: "In my career I've had two great passions - Inter and Chelsea - and Chelsea is more than important for me."
"It was very, very hard to play against Chelsea, and I did it only twice which was not so bad."
"Now I promise exactly the same things I promised in 2004 with this difference to add: I'm one of you."
On 10 June 2013, Mourinho was officially unveiled as Chelsea manager for the second time at a press conference held at Stamford Bridge.
Mourinho's first competitive game back in charge of Chelsea ended in a 2-0 victory against Hull City on 18 August 2013 at Stamford Bridge.
In 29 January 2014 following a 0-0 draw at home to West Ham United, Mourinho described the Hammers as playing "19th century football" saying "This is not the best league in the world, this is football from the 19th century,"
"The only [other] thing I could bring was a Black and Decker to destroy the wall."
Team
From
To
Record
M
W
D
L
Win %
| | | | | | | | |
| --- | --- | --- | --- | --- | --- | --- | --- |
| Chelsea | 2 June 2004 | 20 September 2007 | 185 | 124 | 40 | 21 | 67.03 |
| | | | | | | | | |
| --- | --- | --- | --- | --- | --- | --- | --- | --- |
| | Chelsea | 3 June 2013 | Present | 43 | 28 | 8 | 7 | 65.12 |
P W D L Win%
| | | | | | | | | | | | |
| --- | --- | --- | --- | --- | --- | --- | --- | --- | --- | --- | --- |
| Real Madrid | | 31 May 2010 | Present | 178 | 128 | 28 | 22 | | | | 71.91 |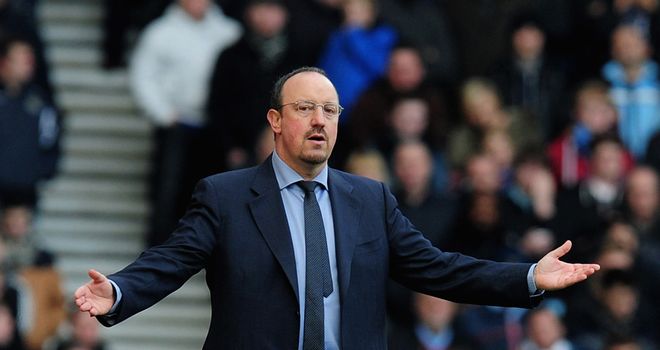 Rafael Benitez
2012-13
Relations with other managers Prior to Appointment
Benítez has had confrontations with both José Mourinho (Chelsea manager, 2004–2007) and Sir Alex Ferguson (Manchester United manager, 1986–) during his time in English football. Benítez made a number of suggestions during Mourinho's tenure as manager that Roman Abramovich's money had brought Chelsea success, and the pair refused to shake hands after some matches (although Mourinho declared the feud to be over after a league game in 2006). When Mourinho exited Chelsea in 2007, Benítez said "You know my relationship with him, it is better that I do not say anything"; declining to comment as Ferguson and Arsenal manager Arsène Wenger had.On 21 November 2012, following the sacking of Roberto di Matteo, Chelsea appointed Benítez as interim first-team manager until the end of the 2012–13 season.
He was unveiled as the new Chelsea manager at a press conference on 22 November 2012. He appointed Boudewijn Zenden as his new assistant manager at Chelsea on 22 November.
Benítez's first game in charge of Chelsea came on 25 November 2012, a 0–0 draw at home to Manchester City.
He received a hostile reception from the Chelsea fans at Stamford Bridge during his first match, due to them being unhappy with his appointment.
On 5 December 2012, Benítez recorded his first win as Chelsea manager, a 6–1 victory at home to Nordsjælland in the Champions League. Despite this win, Chelsea failed to progress beyond the group stage of the competition.
This was followed by a 3–1 away victory to Sunderland, with Benítez presiding over his first league win as manager.
Benítez qualified for his first final as Chelsea manager on 13 December 2012, defeating Monterrey 3-1 to reach the final of the 2012 FIFA Club World Cup.
On 16 December 2012, Chelsea went on to lose the final 1-0 to Brazilian side Corinthians.
First Signings
03/01/2013 Demba Ba from Newcastle.
Ba passed a stringent medical and had agreed terms on a £70,000-a-week deal but the switch from Newcastle was delayed as at least three agents argued over how to divide a £2million payment.
Chelsea
had met the clause in his Newcastle contract to sign the Senegal international forward but negotiations were complicated by the fact both the player and his representatives were due a slice of the transfer fee – Ba's cut was understood to be £2.5million.
Demba Ba, made it a debut to remember as he netted a goal in each half during our 5-1 FA Cup win against Southampton, unfortunately in the Prem game we lose a 2-0 lead and the Boo's follow Rafa off the pitch, at least Demba is still scoring and Torres has Refound his Touch.
Rafa Will Now Leave with a UEFA Europa Cup Win on His CV as Chelsea Beat Benfica 2-1.
Record so far P W D L Win%
| | | | | | | | | |
| --- | --- | --- | --- | --- | --- | --- | --- | --- |
| Chelsea | | 21 November to 2012 | Present | | | | | |
AVB Since Joining Spurs P W D L Win%
Roberto Di Matteo 2012
Di Matteo won his first trophy as Blues boss when goals from Ramires and Drogba helped us to a 2-1 win over Liverpool in the FA Cup final, and while league form stuttered slightly due to a congested fixture list, focus was centred around the Champions League final against Bayern Munich in their home stadium.
The Blues were unsurprisingly forced to defend for large parts of the game, and when Bayern took the lead eight minutes from time the dream appeared to be slipping away.
In the 87th minute, however, Drogba rose highest to meet a Mata corner and head home, forcing the game into extra-time.
The ensuing 30 minutes saw Petr Cech save an Arjen Robben penalty, and the Blues goalkeeper reproduced more heroics in the shoot-out to deny Ivica Olic and Bastian Schweinsteiger, leaving Drogba to win the trophy for Di Matteo's side, capping the most magical night in the club's history.
This Season Blues were defeated in both the European Super Cup and the FA Community Shield, our early league form though was impressive.
Away victories at both Arsenal and Tottenham Hotspur maintained our momentum, before a 2-1 Champions League defeat in Shakhtar Donetsk set the alarm bells ringing for the first time.
Di Matteo suffered his first league defeat of the season four days later when Manchester United won 3-2 at Stamford Bridge in a game littered with controversy, while the following three games - against Swansea, Liverpool and West Bromwich Albion - yielded only two points from a possible nine.
With a pivotal Champions League clash in Juventus looming, the pressure was mounting on Di Matteo, and his cause wasn't helped when we were beaten 3-0 in Turin, leaving our hopes of qualification for the knockout stages in jeopardy.
Di Matteo was relieved of his duties when he returned to London after the match, but will always hold a special place in the hearts of Chelsea supporters given his achievements at the club, both as a player and manager.
FA Cup (1): 2011–12
UEFA Champions League (1): 2011–12
| | | | | | | |
| --- | --- | --- | --- | --- | --- | --- |
| 4 March 2012 to | 21 November 2012 | Played 42 | Won 24 Drawn | 9 Lost | 9 | Win% 57.14 |
Andre Villas-Boas 2011-12
Andre Villas-Boas arrived at Stamford Bridge in the summer of 2011 amid much fanfare following a season in charge at Porto where he led them to four trophies, including the Europa League, without losing a single match.
On 30 July 2011, during the pre-season, Villas-Boas won his first piece of silverware with Chelsea, the 2011 Barclays Asia Trophy. Villas-Boas won all of his pre-season fixtures with Chelsea, with the team conceding only one goal in all six games. On 14 August, Villas-Boas's first Premier League match ended in a 0–0 at Stoke City, with Villas-Boas commenting on Stoke's strong defence at home. Villas-Boas then won his first competitive match as Chelsea manager, defeating West Bromwich Albion 2–1 on 20 August. He continued his season with a back-to-back home wins beating Norwich City 3–1. On 18 September 2011, Villas-Boas's Chelsea lost to Manchester United 3–1 at Old Trafford. It was Chelsea's first defeat of the season and Villas-Boas's first defeat in 39 league matches, a run stretching back to his spells as manager of Académica and Porto. On 29 October, Chelsea lost their second derby under Villas-Boas in a 5–3 defeat at home to Arsenal after falling to a 1–0 defeat to Queens Park Rangers. Then three weeks later, his Chelsea side lost a second successive home game in a 2–1 defeat to Liverpool. Days later, he once again lost to Liverpool in a 2–0 defeat in the League Cup quarter-final.
On 11 February 2012, pressure began to mount on Villas-Boas as Chelsea dropped out of the top four in the Premier League following a 2–0 league defeat against Everton. Villas-Boas responded by cancelling his squad's day off and called them in for an inquest, which provoked several senior players to question his tactics in front of owner Roman Abramovich.
On 21 February 2012, during a UEFA Champions League match against Napoli, Villas-Boas left Frank Lampard, Michael Essien and Ashley Cole on the bench, prompting the club's technical director to ask for an explanation of the team selection on behalf of Abramovich.
On 4 March 2012, following a 1–0 league defeat against West Bromwich Albion which left Chelsea three points adrift of Arsenal in the battle for fourth place in the Premier League, Villas-Boas was relieved of his managerial duties by Chelsea, with assistant manager Roberto di Matteo being appointed as caretaker manager on an interim basis until the end of the season. On the Chelsea website it read: "The board would like to record our gratitude for his work and express our disappointment that the relationship has ended so early."
| | | | | | | |
| --- | --- | --- | --- | --- | --- | --- |
| 22 June 2011 to | 4 March 2012 | Played 40 Won | 19 Drawn | 11 Lost | 10 Win% | 47.50 |
Sacked by Spurs 15th. December 2013 after two 5-0 defeats
Tottenham Hotspur Record
| | | | | | | | | |
| --- | --- | --- | --- | --- | --- | --- | --- | --- |
| | | 3 July 2012 | 16 December 2013 | Played 80 Won | 44 | Drawn 20 | Lost 16 Win | % 55.00 |
Carlo Ancelotti 2009-11
Appointed Chelsea manager and in his first season led them to a historic Premier League and FA Cup Double. He became only the second non-British manager to win the double, the other being Arsène Wenger. After an uneven Premier League season in which Chelsea failed to retain the title, Ancelotti was dismissed as their manager in May 2011. On 30 December 2011, Ancelotti signed a contract with ambitious French side Paris Saint-Germain.
Premier League: 2009–10
FA Cup: 2009–10
Community Shield: 2009
Gus Hiddink 2009
As Caretaker Manager Gus led Chelsea to an FA Cup win against Everton in 2009.
| | | | | | |
| --- | --- | --- | --- | --- | --- |
| 16 February to 2009 | 30 May 2009 | Played 21 Won | 15 Drawn | 5 Lost | 1 Win% 71.43 |
Luiz Felipe Scolari 2008-09
Scolari's career as Chelsea manager in the Premier League got off to a good start with a 4–0 victory over 2008 FA Cup winners Portsmouth.
Under Scolari, Chelsea had the biggest away win of the club in five years in which Chelsea won 5–0 at the Riverside Stadium in October 2008. It was also the club's biggest win ever at Middlesbrough.
Scolari was sacked as Chelsea manager on 9 February 2009
after a run of poor form culminating in a 2-0 defeat at Liverpool followed by frustrating 0–0 home draw with Hull City. The club's stated reason for his removal was that
"the results and performances of the team appeared to be deteriorating at a key time in the season."
Scolari's replacement at Chelsea for the remainder of the 2008-2009 season was the Dutch Guus Hiddink, who was also managing the Russian national team at the same time.
| | | | | | | | |
| --- | --- | --- | --- | --- | --- | --- | --- |
| 1 July 2008 to | 9 February 2009 Played | 36 | Won 20 Drawn | 11 Lost | 5 Win% | 55.56 | |
Avram Grant 2007-08
Grant moved to England in 2006 to become Technical Director of Portsmouth before being appointed Director of football at Chelsea in July 2007. Two months later, in September 2007, following the departure of José Mourinho, Grant was appointed manager of Chelsea. Despite steering the team into the Champions League final, the League Cup final and contesting the Premier League title to the last day, his contract was terminated at the end of the season.
Premier League: 2007–08 (runner-up)
UEFA Champions League: 2007–08 (runner-up)
Football League Cup: 2007–08 (runner-up)
| | | | | | | |
| --- | --- | --- | --- | --- | --- | --- |
| 20 September to 2007 | 24 May 2008 Played | 54 Won | 36 Drawn | 12 Lost | 6 Win% | 66.67 |
Jose Mourinho 2004-07
After Winning the UEFA Champions League with Porto. Mourinho moved to Chelsea the following year and won the Premier League title, the club's first league title in 50 years, and the League Cup in his first season. In his second year Chelsea retained the Premier League and in 2006–07 he took the club to an FA Cup and League Cup double, though they finished as league runners-up. He often courted controversy for his outspokenness, but his victories at Chelsea and Porto established him as one of the world's top football managers. Mourinho left Chelsea in September 2007, amidst reports of a rift with club owner Roman Abramovich
Premier League (2): 2004–05, 2005–06
FA Cup (1): 2006–07
Football League Cup (2): 2004–05, 2006–07
FA Community Shield (1): 2005
| | | | | | | |
| --- | --- | --- | --- | --- | --- | --- |
| 2 June 2004 to | 20 September 2007 Played | 185 Won | 131 Drawn | 36 Lost | 18 | Win% 70.81 |
Claudio Ranieri 2000-04
As head coach of Chelsea from 18 September 2000 to 31 May 2004, Ranieri worked hard to overcome the language barrier. When he arrived at the London club, he could speak only limited English; fortunately, the club had a few players who could speak Italian and Spanish and could help translate for him on the training pitch. Ranieri's first season consisted of inconsistent results, with Chelsea reaching sixth place and a UEFA Cup spot. Ranieri had been instructed to reduce the average age of the squad, and worked to rebuild Chelsea in the summer of 2001, essentially creating a brand new midfield by signing Frank Lampard from West Ham United, Emmanuel Petit and Boudewijn Zenden from Barcelona, and Jesper Grønkjær from Ajax. He also signed defender William Gallas from Olympique Marseille, spending in total over £30 million.
He was criticised, however, for both selling fan favourite Dennis Wise and the fact that Chelsea's league performance did not improve much on the previous season. They finished 6th once again but did reach the FA Cup Final, losing 2–0 to Arsenal. During the 2002–03 season and throughout his Chelsea days Ranieri was accused of over-rotating his squad, picking up the nickname of "the Tinkerman" from the British media. Chelsea finished the season on a high, qualifying for the Champions League after beating Liverpool 2–1 on the last day of the season. Ranieri's achievement, coming after a close season where the club were in a difficult financial situation and the only arrival was Enrique de Lucas from Espanyol on a free transfer, was greatly appreciated by fans and the media alike. In addition, Ranieri succeeded in getting the best out of players like Samuele Dalla Bona and Mario Stanić and nurtured emerging talents in John Terry, Robert Huth, and Carlton Cole.
When Chelsea were taken over by Russian billionaire Roman Abramovich in 2003, Ranieri was given a large transfer fund but also found his job under threat. Days after the takeover, Abramovich was spotted meeting with England manager Sven-Göran Eriksson. Although the club denied Eriksson would be taking over at the time, these rumours would haunt Ranieri's season. Ranieri spent £120 million on players in the summer of 2003. These signings included Irish winger Damien Duff for a then club record £17 million, English youngsters Wayne Bridge, Joe Cole, and Glen Johnson, Argentine pair Juan Sebastián Verón and Hernán Crespo, Frenchman Claude Makélélé and Romanian star Adrian Mutu. The heavy investment bought the best league placing for the club in 49 years, finishing runners-up in the Premier League to Arsenal, the first side in over a century to go an entire league season unbeaten. This position automatically qualified Chelsea for the Champions League. The club also reached the semi-finals of the Champions League; Chelsea knocked out Arsenal en route, although Ranieri's position was weakened by the semi-final loss to AS Monaco, a reverse the manager himself was blamed for due to several bizarre substitutions and tactical changes.
That season saw Chelsea break club records for the least number of goals conceded and highest number of points in a season. Former English footballer and pundit David Platt used the example of Ranieri to illustrate his observation that "building a team that can win the title and actually steering this team to the title are two different matters entirely." On 31 May 2004, after almost a year of speculation, which included the club's well-publicized courting of Eriksson, he was finally relieved of his coaching duties at Chelsea, and his job went to José Mourinho, who had led Porto to successive European triumphs. In Ranieri's four seasons Chelsea improved their points total season on season. The core of the Chelsea team which won two Premier League titles under Mourinho, including John Terry, Petr Čech, Arjen Robben, William Gallas, Claude Makélélé, and Frank Lampard were all brought to Chelsea or nurtured by Ranieri. Ranieri published in September 2004 a book named
Proud Man Walking
chronicling his last year at Chelsea. All proceeds went to London's Great Ormond Street Hospital.
| | | | | | | |
| --- | --- | --- | --- | --- | --- | --- |
| 18 September 2000 to | 31 May 2004 Played | 199 Won | 107 Drawn | 46 Lost | 46 | Win% 53.77 |
GianLuca Vialli 1998-2000
Gullit was sacked in February 1998 and 33-year-old Vialli was appointed player-manager. Chelsea were already in the semi-finals of the League Cup and the quarter finals of the European Cup Winners' Cup, and went on to win both competitions under Vialli, as well as finishing 4th in the Premier League. In beating VfB Stuttgart at the Cup Winners' Cup final on 13 May 1998, 33 years and 308 days old Vialli became the youngest manager to ever win a UEFA competition. The record stood for thirteen years until 18 May 2011 when FC Porto's André Villas-Boas won the Europa League at the age of 33 years and 213 days. Coincidentally, Villas-Boas would eventually go on to manage Chelsea.
The following season Chelsea won the European Super Cup by beating Real Madrid 1–0, and finished 3rd in the Premier League, just four points behind champions Manchester United in what was Chelsea's highest league finish since 1970. Vialli made his final competitive appearance for the club against Derby County at the end of that season (a game in which he scored),
finishing his Chelsea career with 83 appearances and 40 goals.
The following season saw Chelsea reach the quarter-finals of the Champions League on their debut in the competition, the highlight of which was a 3–1 quarterfinal first leg victory over FC Barcelona, although they were eventually knocked out on aggregate following a 5-1 return leg loss at Camp Nou that needed extra time. Despite a disappointing 5th place finish in the Premier League, the campaign ended on a high note when Vialli guided Chelsea to a win over Aston Villa in the 2000 FA Cup final.
The 2000–01 season started brightly, with Chelsea beating Manchester United to win the FA Charity Shield, Vialli's fifth official trophy with the club in less than three years, making him the club's most successful manager at the time. But Vialli was sacked five games into the season after an indifferent start and having fallen out with several players, including Gianfranco Zola, Didier Deschamps and Dan Petrescu.
FA Cup: 1997
League Cup: 1998
UEFA Cup Winners' Cup: 1998
UEFA Super Cup: 1998
| | | | | | | |
| --- | --- | --- | --- | --- | --- | --- |
| 12 February 1998 | to 12 September 2000 Played | 143 Won | 76 | Drawn 29 Lost | 38 Win% | 53.15 |
Ruud Gullit 1996-98
In the summer of 1996, when Glenn Hoddle left Chelsea to become manager of the England national team, Gullit was appointed as a player-manager. Gullit made a promising start to his managerial career when in the first season as a player-manager he guided Chelsea to an FA Cup triumph in 1997, the club's first major trophy in 26 years. Gullit became the first non-British manager to win a major trophy in England. The club also finished at a creditable sixth place in the Premiership.
The following season, with Chelsea in second place in the Premiership and proceeding to the quarterfinals in two cup competitions, he was sacked, allegedly for a disagreement with the club's board over the compensation, though Gullit himself disputed this.
He was replaced by Gianluca Vialli, a man he had helped to bring to the club, and who went on to guide them to UEFA Cup Winners' Cup and Football League Cup glory over the remainder of the season. Gullit's last appearance as a player came in the first leg of that season's Football League Cup semi final against Arsenal,
but Gullit was sacked before the second leg.
After Gullit's controversial sacking by Chelsea, chairman Ken Bates famously said of Gullit - "I didn't like his arrogance - in fact I never liked him".
| | | | | | | |
| --- | --- | --- | --- | --- | --- | --- |
| 10 May 1996 to | 12 February 1998 Played | 83 | Won 41 | Drawn 24 | Lost 18 Win% | 49.39 |
Glen Hoddle 1993-96
In June 1993, Hoddle became player-manager of Chelsea (he retired from the playing side in 1995). His assistant at Chelsea was the former Tottenham manager Peter Shreeves, and they reached the FA Cup final in Hoddle's first season, where they lost 4–0 to Manchester United. But United had done the double, and consolation for their failure to win the trophy came in the form of a Cup Winners' Cup place. Chelsea reached the semi finals of that competition in 1994–95 and lost by a single goal to Real Zaragoza, who went on to beat Arsenal in the final. Hoddle guided Chelsea to the FA Cup Semi Finals in 1995–96, but was unable to take them beyond 11th place in the Premiership – they had occupied this final position three times in four years. He did establish them as a force in cup competitions and made them capable of attracting top-class players – such as Ruud Gullit – to the club.
| | | | | | | |
| --- | --- | --- | --- | --- | --- | --- |
| June 1993 | to May 1996 | Played 157 Won | 53 | Drawn 54 Lost | 50 | Win% 33.76 |
David Webb 1993
As a player David finally left Chelsea in July 1974, having scored 21 times in 230 games to join QPR.
Webb returned to Chelsea as manager in February 1993 on a short-term contract to replace Ian Porterfield – another former player. The club were in freefall, without a league win in over two months and threatened with relegation. Under Webb, performances and results gradually improved and the team eventually finished a comfortable 11th in the Premiership. But the club's board did not renew his contract and appointed Glenn Hoddle instead.
Ian Porterfield 1991-93
As assistant manager to Bobby Campbell at Chelsea and oversaw their promotion back to the First Division and Second Division champions in 1988-89.
In October 1989, Porterfield was named manager of Third Division side Reading but was sacked 18 months later, having failed to mount a promotion challenge.
Porterfield returned to Chelsea as manager for the 1991-92 season, following Bobby Campbell's decision to resign as manager and become PA to assistant Ken Bates. 1991-92 was an uneventful season, but 1992-93 began with Chelsea looking like surprise contenders for the first Premier League title. However, the good form had gone by Christmas and Porterfield was dismissed on 15 February 1993, gaining the distinction of being the first manager to be sacked by a Premier League club.
1st. Year of Prem. 1992-3
| | | | | | | | |
| --- | --- | --- | --- | --- | --- | --- | --- |
| Played 42 | Won 14 Drawn | 14 Lost | 14 For | 51 Against | 54 | GD −3 | Points 56 |
Bobby Campbell 1988-91
Towards the end of the 1987-88 season, Campbell was appointed assistant to manager John Hollins at Chelsea, in the midst of a relegation battle; one month later Hollins was sacked and Campbell appointed caretaker manager until the end of the season. Campbell was unable to turn around the club's fortunes in the eight games which remained that season, and they were relegated via the short-lived play-off system.
He made amends the following season, however, as his side romped to promotion as Second Division champions with a haul of 99 points. A year later, he led to Chelsea to a 5th place finish in the First Division, their highest league placing since 1970. He was relieved of his managerial duties after an 11th place finish and appointed personal assistant to Chelsea chairman Ken Bates in 1991.
Campbell went on to coach in Saudi Arabia.
Last Season of 1st. Division
| | | | | | | | | | | | | | | | | | |
| --- | --- | --- | --- | --- | --- | --- | --- | --- | --- | --- | --- | --- | --- | --- | --- | --- | --- |
| Played 42 | Won | 13 | Drawn 14 | Lost 15 | | GD -10 | Points 53 | | | | | | | | | | |
John Hollins 1985-88
He had his most prolific goalscoring season for Chelsea in the 1971–72 season, finding the net 17 times. Chelsea also reached another League Cup final in 1972, losing to Stoke City, but declined thereafter, though Hollins remained until the side's relegation to the Second Division at the end of the 1974–75 season, when he was sold to nearby QPR.
Hollins returned to Chelsea on a free transfer from Arsenal in 1983, and helped the club gain promotion back to the First Division in 1983–84, playing a further 30 times. He retired at the end of that season, having played 939 first-class matches in total.
Hollins was immediately appointed coach at Chelsea; a year later he became first team-manager following John Neal's retirement. Chelsea built up a strong title challenge in 1985–86 and went top in February, but they finished sixth after collecting a mere nine points from a possible 33 during their final 11 games.
His side still won the Full Members Cup in the same season, though, hanging on for a 5–4 win over Manchester City at Wembley having almost let slip a 5–1 lead. The following years were less successful, as Hollins and his assistant Ernie Walley fell out with several key players, particularly David Speedie and Nigel Spackman, team morale slumped and the side began to struggle. He was sacked in March 1988 with the club in the midst of a four month run without a league win which would see the season end in relegation.
Season 1987-88
Played 40 Won 9 Drawn 15 Lost 16 GD -68 Points 42
Relegated to 2nd. Division
JOHN NEAL 1981 to 1985
GEOFF HURST 1979 to 1981
DANNY BLANCHFLOWER 1978 to 1979
KEN SHELLITO 1977 to 1978
EDDIE McCREADIE 1975 to 1977
RON SUART 1974 to 1975
DAVE SEXTON 1967 to 1974
TOMMY DOCHERTY 1962 to 1967
TED DRAKE 1952 to 1961
WILLIAM BIRRELL 1939 to 1952
LESLIE KNIGHTON 1933 to 1939
DAVID CALDERHEAD 1907 to 1933
JOHN ROBERTSON 1905 to 1906
| | | | | | | | | |
| --- | --- | --- | --- | --- | --- | --- | --- | --- |
| | | How Times Have Changed :0) | | | | | | |